Patient Representative Group
APPOINTMENTS
We are fully open but social distancing means we have to operate in a different way to before the pandemic.
In general we have a 'phone first' service for GP appointments. Doctor appointments are initially by telephone and bookable by calling our reception on 01235 522379.
Whenever possible we deal fully with the issue over the phone, or by video. If a face to face appointment is necessary after a phone call the doctor will arrange it directly with you at the time of the phone call.
Unfortunately we cannot offer as many face to face appointments as we did before the pandemic because social distancing requirements mean a reduced number of people can be in our waiting rooms at any one time. Face to face nurse appointments can be booked directly through phoning reception e.g. for smears, blood tests and routine immunisations.
We also offer an online 'e-consult' for routine matters. Please fill in our website form which will then be reviewed by of our team who will follow up as appropriate.
We always have on the day availability for urgent matters.
Unfortunately, the combined effects of significantly increased demand for routine matters as the pandemic recedes, the need to accommodate social distancing, our involvement in the covid-19 vaccination programme and a very large number of queries relating to the covid vaccinations, means our wait for routine appointments is longer than usual. We are very sorry about this and our doing all we can to try and improve the situation. If possible please consider if you can manage your problem with help from other sources such as 111, the NHS website (which has comprehensive health and self-care information), local pharmacies, opticians and sexual health clinics.
To give an idea of how busy the surgery is, on average we have 219 appointments per day and receive on average 365 calls per day.
In common with many practices we have sadly noticed there has been an increase in unacceptable behaviour towards our receptionists. We are very grateful to the vast majority of our patients who treat them with respect and courtesy, and we kindly ask that everyone keeps in mind that they are doing their best to help you in very difficult circumstances. You may be interested in this video produced by the Institute of Practice Managers with examples of the abuse GP surgery receptionists face on a daily basis.
OMICRON UPDATE
Below gives an update on the Omicron variant of COVID-19 and JCVI guidance / information:
Urgent work is ongoing to fully understand how the Omicron variant may change the behaviour of the virus with regards to vaccines and transmissibility. We will update you when we have more information.
Vaccines continue to remain the best line of defence. The Government has good reason to remain confident that our current vaccines will provide protection against the new variant but the extent of this continues to be investigated.
All adults who have not yet received their first or second dose of the vaccine, or those who are eligible for their booster are encouraged to come forward to help protect themselves and others. This can be done through the national booking service.
The Joint Committee on Vaccination and Immunisation (JCVI) now advises:
• All adults aged 18 to 39 years should be offered a booster dose, in order of descending age groups, to increase their levels of protection.
• Booster doses should be given no sooner than three months after the primary course.
• All severely immunosuppressed individuals should be offered their booster dose no sooner than three months after completing their primary course of 3 doses.
• Young people aged 12 to 15 years should receive a second dose of the Pfizer-BioNTech COVID-19 vaccine, no sooner than 12 weeks after their first dose.
The booster will be offered in order of descending age groups, with priority given to the vaccination of older adults and those in a COVID-19 at-risk group. This will accelerate the deployment of COVID-19 vaccines and raise levels of protection across the population.
The NHS is working on the plans to offer the booster to the new groups above. But please note that this is not available yet. We will update you as the service develops but please remember the NHS will contact you when it is your turn. Please do not ring the GP practice.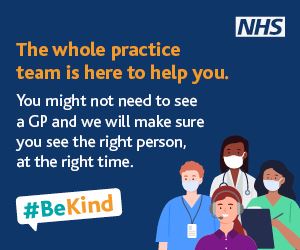 At Long Furlong we aim to provide the best possible quality and range of services for all our patients. To help us achieve our aims we would like to work with groups of patients who represent the different needs and ages of our practice population. We hope our patients will contribute to the continuous improvement of the services offered now and in the future and that communication between the practice and its patients will improve.
We realise that everyone leads full and busy lives and, therefore, we would only contact you when changes or developments to the surgery or the services provided are being planned that might affect you or the group of patients that you represent – this could be just a couple of times a year. We anticipate that much of the work will be done by surveys which could be completed either electronically or by post. The results of the surveys will be published on our website and in a practice newsletter which will be available for all patients in our Waiting Room and posted to those members of the patient group that opt to complete postal surveys.
If you would be interested in joining our group and representing other patients, we would be very interested to hear from you. Please complete the form below and return to the practice or alternatively for more information, contact Debbie Major, Practice Manager by phone on 01235 522379 or email debbie.major@nhs.net
Patient Practice Group Signup
Patient Practice Group Contact Form
Patient Practice Group Minutes Archive
Getting Your View
The group would like to contact patients on occasion by email and/or text so that they can obtain the views of the widest group of patients possible. We would like to obtain your email address and mobile phone number to do this. Please complete the Patient Contact Form to provide your consent for this.
Have Your Say
NHS Friends and Family
There is no active Friends and Family survey, please visit your FPMS system to configure them.
Keep up to date with the latest practice news
Newsletter
Download the latest newsletter May 2022 Newsletter
To receive future editions of the newsletter straight to your inbox sign up below.
Primary Care Estates Strategy 2020-2025